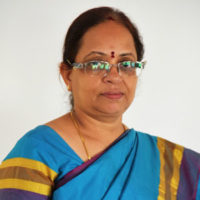 Rajalakshmi Sundar
ASSISTANT TEACHER - MATHEMATICS
OBJECTIVE:
To work in an innovative and challenging environment.
 To motivate and direct students towards true values and principles of life.
PROFESSIONAL EXPERIENCE:
Having more than 15  years of experience in various CBSE ,ICSE and STATE Schools for classes from 5th to 10th.
Started the career from the year 1990 as teaching assistant in Sankara Vidayalaya Matriculation School in Chennai till the academic year 1993. ( classes handled – 5th to 8th)
Continued the profession from the academic year 1994 to  2003 in Manasorawar Pushkarni Vidhya Ashrama ,Mysore  (classes handled – 6th to 10th)
Worked as a Maths Teacher in Baldwin's girls High School from the academic year 2003 till jan'2005(classes  handled- middle school)
Worked as Maths Teacher in Mahajana's Education Society (CBSE -WING), Mysore from academic year 2010 till 2013. ( classes handled – 8th to 10th).
Temporarily worked as maths teacher in Bharatiya Vidhya Bhavan ,Mysore from Nov'2013 till Jan'2014.
ESSENTIAL RESPONSIBILITIES EXECUTED
Creating a healthy classroom environment to foster positive learning.
Patiently providing individual support for students struggling with learning concepts and topics.
Preparing worksheets for different levels of students.
curriculum planning and execution.
Designing appropriate instruction programmers for continuous assessments.
Hardwork and optimism for superior performance.
Special attention for students with slow learning capabilities.
EDUCATION:
Passed 10th and 12th standards from St thresa's higher secondary school,Pallavaram,chennai.
Sc Statistics from vaishnav college in 1987, affiliated to Madras University,Chennai.
Sc Statistics from Madras Christian College in 1989,affiliated to Madras University.
Ed from Annamalai University .
Ed from Annamalai University in 1992.
    WORKSHOPS ATTENDED:
Effective classroom management.
How to inculcate moral values in our students.
Personality development programs.
CCE workshops through Sarvodaya Schools.
CORE BELIEFS:
Life long learner.
Commitment and dedication as core values.
Team work can do miracles.
Hardwork  for excellent performance.
Computer literacy
Working knowledge in operating systems to some extent.
PERSONAL DETAILS:
Date of Birth: 09/04/1967
Address: Flat no T3 , Madhuvana apartments,No.17,Brindavan extension,Mysore-570 020
Languages known: English, Tamil, Kannada, Hindi, Sanskrit.